Getting You Tech-Ready for Your Course
KURSSILLE YM. VALMISTAUTUMISTA VARTEN
LUETHAN ALLA OLEVAT OHJEET
REQUIRED READING
It is the learner's responsibility to meet the tech requirements for our digital (on-demand, e-learning) courses
TalkTools is not responsible if the learner did not meet our tech requirements and has issues accessing their courses
Kursseille ym. osallistujan vastuulla on selvittää tietokoneensa tekninen sopivuus opiskeluun alla mainituin ohjein - Talk Tools ei ota vastuuta, mikäli osanottajalla on teknisiä tm. vaikeuksia osallistua kursseille, konferensseihin ym.
Web Browser - Selain suositukset
Supported Browsers – the latest version of
Use this site to check your browser/ tarkista, mitä selainta käytän: https://www.whatismybrowser.com/
Check your web browser SETTINGS: Tarkista selaimesi asetukset JavaScript, cookies and third-party cookies need to be enabled / JavaScript, evästeet, kolmannen osapuolen evästeet on hyvä olla käytössä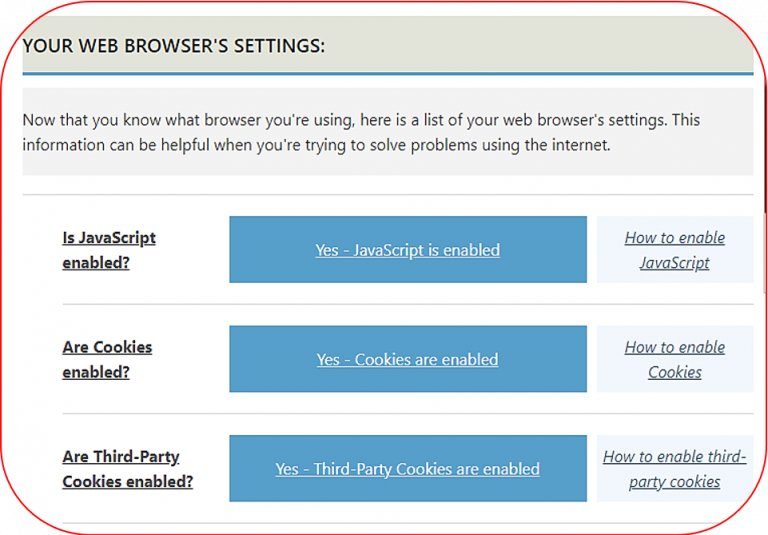 OS (Operating Systems) Käyttöjärjestelmä
Supported operating systems Tuetut käyttöjärjestelmät
iOS 8.0 or later

(mainittu tai uudempi)

Windows 10 or later
iPadOS 13 or later
iPhone 4 or later, iPad Pro, iPad Mini, iPad 2 or later, iPod touch 4th Generation, iPhone 3GS (no front facing camera)
Android 5.0x or later
Internet Connection

Internet yhteydet
on-demand, e-learning courses require a lot of bandwidth /kaistaleveys
check your connection at:

tarkista internet yhteytesi sopivuus:

https://www.speedtest.net/
minimum speeds:

minimum upload speed /Minimi latausnopeus:
8 Mbps/1MB

Ping: 50 ms or lower
NOTE: Optimum internet provided is NOT supported

/
Optimaalista Internet-palveluntarjoajaa EI tueta
Clear Your Cache (Browsing History)
Tyhjennä selainmuisti säännöllisesti
It is best practice to regularly clear your cache
On your computer, open Chrome.
At the top right, click More .
Click More tools. Clear browsing data.
At the top, choose a time range. To delete everything, select All time.
Next to "Cookies and other site data" and "Cached images and files," check the boxes.
Click Clear data.
---
Kuinka osallistua - tekniset vaatimukset
Ei tuotteita tässä luokassa
---